Moving boxes, clothes boxes, picture boxes, other packing TESU Removals Irland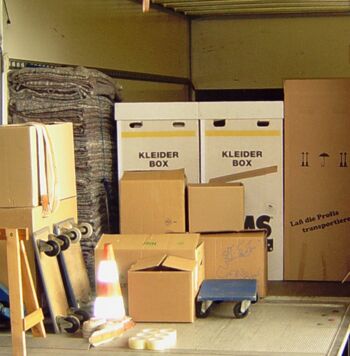 Moving boxes in good, stable quality are an important prerequisite for a good move.
Unfortunately, in some Internet portals, moving stores and markets are offered more and more often boxes that do not deserve the name "moving box", and are absolutely unsuitable for a real move.
Deficiencies : cardboard too thin or only one layer, too soft material, no stable folding bottom and not stackable many times on top of each other. With bad cartons, bottoms can open during transport of the cartons, the corners tear, handles tear out and when stacked on top of each other, the cartons sag into each other.
(Attention: Damages caused by poor packing are unfortunately not insurable)
If you pack yourself, please pack heavy things in small moving boxes (book boxes),
or if only large cartons are available, then fill a third with heavy goods, and light then on top. About good packing tips we inform you gladly and free of charge.
TESU Removals Ireland can bring suitable boxes and materials for the move on request.
Mail : info@dublin-removals.com
Our recommendation:
Moving box size: approx 60 x 35 x 38
Quality 2.3 to 2.4, foldable bottom,
if possible Natron Kraftliner paper
Clothes boxes: quality 2.6-2.7
Picture boards
Bubble wrap
Tissue wrapping paper
Plate paper
Bottle inserts
adhesive tape